Kim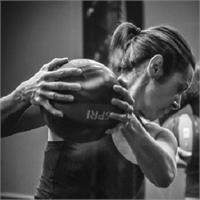 A low back injury in my early 30's brought me to my first yoga class. My first thought, was 'Wow', this is more than exercise! This is a lifestyle… a discipline. Since that day, yoga has always been a part of my life. From practicing power yoga, to prenatal yoga during my pregnancies, to a heated power flow, I realized there is a style of yoga for everyone. In 2014, I completed my 200-hour yoga teacher training in the Baptiste style. I tend to teach a more powerful Vinyasa form of yoga. Each class will be different. However, I still gear my classes to all levels. I truly believe people will be amazed at the physical and mental strength they didn't know they had. My training has taught me self-acceptance, and discovery that go far beyond the mat. On the days I don't teach yoga at Pure Energy, you will most likely find me in the Zone room challenging my body in a different capacity through strength, cardio, and HIIT classes. Yoga has become the balance I need in the gym and outside. My goal for every class is to challenge my students to discover their full potential and achieve their ultimate balance.
Kim instructs the following:
In this intermediate class you learn all the important fundamental poses while also teaching some of the more challenging and difficult poses, including all the baby steps required. This Yoga class will be joyful and therapeutic, but not easy! Some experience is required.


Respect and kindness towards yourself and your body is the first law of Yoga, and Yoga is the ANTIDOTE to 'no pain, no gain'. In this class you will find the space where you are challenged but not forcing. You will give receive a strong practice of patience, attention and concentration for the body and the mind. Practicing at the edge of your comfort zone will create self-awareness and spaciousness, to help you become more present. Yoga cultivates a deep interest in how your body is functioning right now.




Sculpt all major groups with a variety of techniques using resistance training using weights & HIIT training interspersed throughout the class.