Kate H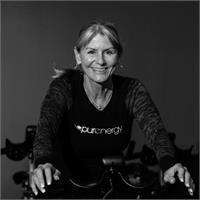 SPINNING, PILATES, YOGA INSTRUCTOR
A competitive swimmer as a youth, making it to the junior Olympics, then training and showing horses was the start of an active lifestyle. Team tennis then became my passion for 15 years in both singles and doubles. I've been in the fitness industry for over 25 years, teaching spinning, Pilates mat, Pilates small apparatus, step, advanced double step, Hatha yoga, PIYO, Barre, and kickbox.
A graduate from Villanova University in communications lead to a career as an assistant producer of television commercials on a national level. I now work with my sister in the family business promoting the company as a woman owned and operated on the Federal and state level.
Kate H instructs the following:
Spin for 45 minutes, great music & inspiring, informative instruction. Heart rate straps recommended to monitor cardio intensity. Great way to build cardio endurance and strength, all levels welcome.




Using the Barre and small equipment, specific muscle conditioning and sculpting for buttocks and Core.




A blend of Pilates for Core strengthening and Barre conditioning to lengthen and strengthen the entire body, especially thighs and buttocks.




A classical approach to Barre training emphasizing upper body training sculpting with light weights, with thigh, seat & core sculpting. Barre emphasizes barefoot training(no shoes), but toe sox are highly recommended for support and grip in Barre classes.

Barre is a full body workout designed to give you a defined core, toned legs and buttocks, sculpted arms incorporating a fresh approach to Barre training in every class. This yoga, pilates and ballet inspired class focuses on isolated exercises, alignment, flexibility and posture. Each section of strengthening exercises is followed by a deep stretch to create a long, lean look and increased range of motion. Motivating music and an elite, expert instructor staff will guide you through a total body workout that focuses on strengthening and lengthening every muscle group.