Kate H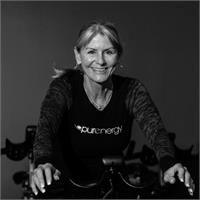 SPINNING, PILATES, YOGA INSTRUCTOR
A competitive swimmer as a youth, making it to the junior Olympics, then training and showing horses was the start of an active lifestyle. Team tennis then became my passion for 15 years in both singles and doubles. I've been in the fitness industry for over 25 years, teaching spinning, Pilates mat, Pilates small apparatus, step, advanced double step, Hatha yoga, PIYO, Barre, and kickbox.
A graduate from Villanova University in communications lead to a career as an assistant producer of television commercials on a national level. I now work with my sister in the family business promoting the company as a woman owned and operated on the Federal and state level.
Kate H instructs the following:
Complete total Body Sculpting and Strengthing using weights of different sizes. Major muscle groups are targeted for full range of motion movement in a variety of sets with dumbbells, Step 360, BOSU & TRX, Body Bars and small elevated platforms. This class builds muscle so the body can lean out. 45 minutes, all levels welcome, athletic shoes recommended.




You will be riding on the new Blade ION™ bikes! This class is designed to track real power—a rider's true effort.

PLEASE ARRIVE 10 minutes prior to class time for proper bike set up. Heart rate straps are recommended to monitor cardio intensity.

The SPINPower technology is unique because it tells riders how hard they are working, allows them to measure progress, and tells them what fitness variables they need to change.

SPINPower program features:
A Personal Spinning Threshold Test (PST) informs the creation of customized SPINPower training zones.
Post-ride data analysis allows a rider to monitor and evaluate progress, and compare those results over time.
The Spinner Blade ION provides an accurate measurement of how many calories a rider is burning.




A perfect combo: 30 minute Spin cardio for all levels followed by Barre training emphasizing upper body work with light weights, thigh, seat and core muscle conditioning using the Barre and other small equipment.




Pilates mat exercises that emphasize and challenge the CORE! All levels are welcome.