Karen Gartner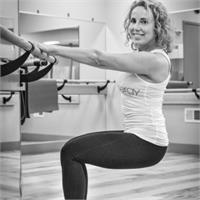 BARRE INSTRUCTOR
AFAA and Barre certified, Karen has extensive dance/ballet experience. Karen leads her students on a journey towards the physical and mental benefits of exercise. Creating a comfortable, fun, relaxed yet challenging class, she helps each of her students reach beyond their expectations and hopes they will be rewarded by the changes they experience in their lives.
Karen Gartner instructs the following:
Using the Barre and small equipment, specific muscle conditioning and sculpting for buttocks and Core.




A classical approach to Barre training emphasizing upper body training sculpting with light weights, with thigh, seat & core sculpting. Barre emphasizes barefoot training(no shoes), but toe sox are highly recommended for support and grip in Barre classes.

Barre is a full body workout designed to give you a defined core, toned legs and buttocks, sculpted arms incorporating a fresh approach to Barre training in every class. This yoga, pilates and ballet inspired class focuses on isolated exercises, alignment, flexibility and posture. Each section of strengthening exercises is followed by a deep stretch to create a long, lean look and increased range of motion. Motivating music and an elite, expert instructor staff will guide you through a total body workout that focuses on strengthening and lengthening every muscle group.