Susie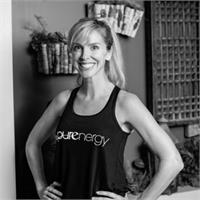 BARRE & BOOTCAMP INSTRUCTOR
Susie is certified with AFAA and has been teaching for 10 years. She is trained in several formats -- Barre, Zumba, Turbo Kick, PiYo, Silver Sneakers, Boot Camp and Step. Her love of helping students achieve their health and fitness goals resonates in all of her classes!
Susie instructs the following:
A more athletic approach to Barre training, extra props and equipment are used to enhance overall sculpting for upper body, thigh, seat and core. A different format is used in each Sports Barre class. What to expect/wear: UGI, Gliding discs, tubing, bands and weights are used for an ultimate total body workout. Barre emphasizes barefoot training(no shoes), but toe sox are highly recommended for support and grip in Barre classes.

Ugi ball(used at times) is a padded medicine ball that combines strength, cardio and core training into the most fun, challenging, perfect way to becoming functionally fit.