Steve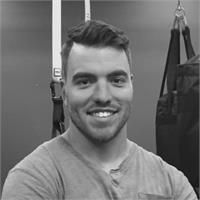 KETTLEBELL/TRX & FUNCTIONAL MOVEMENT
Certified personal trainer since December 2011, Steve teaches various styles and formats, from park boot camps with no equipment to one on one training with college athletes. His training style uses a variety of free weight, body weight, kettle bell exercises as the base of any good strength program would. Steve is also certified in osteoblast training( which is a specific type of strength training to help aid in correcting bone density issues I.e osteoporosis), speed blast training (linear and sport specific speed training), kettle bells, TRX suspension training, and am and functional movement screening.
Steve always likes to remind his students that this should be a lifestyle, not a quick fix -- importance of diet, nutrition, stretching, foam rolling, and plenty of rest is what Steve emphasizes for optimal fitness and health.
Steve instructs the following:
Sculpt all major groups with a variety of techniques using resistance training using weights & HIIT training interspersed throughout the class.




Build strength, add definition, increase bone density and decrease body fat by INCREASING lean muscle. ... Use a variety of weight training equipment to change the shape of your body - no muscle gets neglected!