Bella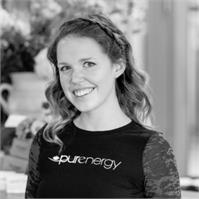 BARRE INSTRUCTOR
Although Bella is new to fitness instructing her passion for fitness started at a very young age. She always loved attempting to keep up with her mom practicing Jane Fonda aerobic videos in their basement. From that early beginning Bella developed a love for many athletic activities such as swimming, dancing, yoga and her favorite hobby running. She loved the way that working out made her feel strong, how it gave her confidence to achieve her goals, and served as a form of therapy when things got tough. Although she had always been and avid fan of an array of fitness classes she didn't discover Barre until 2 years ago when she was decided to take her best friend and fellow instructor Brooke's barre class. That first class was full of shaking legs and taking breaks but it was exactly the challenge she needed to become hooked! She then started taking more and more barre classes whether at a studio or even looking up videos to try out at home. After much encouragement from Brooke to step out and start teaching a class of her own Bella decided to finally take that leap of faith and make her passion for fitness and wellness into a career by getting certified with Barre Above. Bella is beyond excited to be teaching at Purenergy and cannot wait to see what her future in fitness has in store!
Bella instructs the following:
A classical approach to Barre training emphasizing upper body training sculpting with light weights, with thigh, seat & core sculpting. Barre emphasizes barefoot training(no shoes), but toe sox are highly recommended for support and grip in Barre classes.

Barre is a full body workout designed to give you a defined core, toned legs and buttocks, sculpted arms incorporating a fresh approach to Barre training in every class. This yoga, pilates and ballet inspired class focuses on isolated exercises, alignment, flexibility and posture. Each section of strengthening exercises is followed by a deep stretch to create a long, lean look and increased range of motion. Motivating music and an elite, expert instructor staff will guide you through a total body workout that focuses on strengthening and lengthening every muscle group.




Using the Barre and small equipment, specific muscle conditioning and sculpting for buttocks and Core.




A 45 minute Barre workout emphasizing thighs, seat & CORE.