Sarah Kim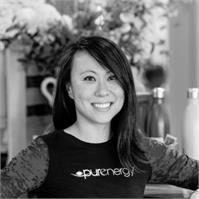 Sarah Kim Vennard was born in Seoul, South Korea and grew up in upstate New York. She has love of biology, dance, and fitness. She trained at the NYSSSA, Albany Dance Institute, and the University of the Arts. Her company experience includes the Berkshire Ballet, EBA Dance Company, and the Penn Dance Company. She is a former Board Member for Dance and the Child International and a current member of the National Dance Educators Organization. She is founder and Artistic Director of Nova Dance Company and certified by American Ballet Theatre to teach their national curriculum. Combining her love of dance, Pilates, and yoga, she completed certification through Exhale to teach Barre fitness. SK is a former member of the dance faculty at University of Delaware and currently teaches company classes at Studio 180 and Purenergy Fitness Studio.
Sarah Kim instructs the following:
A blend of Pilates for Core strengthening and Barre conditioning to lengthen and strengthen the entire body, especially thighs and buttocks.




A classical approach to Barre training emphasizing upper body training sculpting with light weights, with thigh, seat & core sculpting. Barre emphasizes barefoot training(no shoes), but toe sox are highly recommended for support and grip in Barre classes.

Barre is a full body workout designed to give you a defined core, toned legs and buttocks, sculpted arms incorporating a fresh approach to Barre training in every class. This yoga, pilates and ballet inspired class focuses on isolated exercises, alignment, flexibility and posture. Each section of strengthening exercises is followed by a deep stretch to create a long, lean look and increased range of motion. Motivating music and an elite, expert instructor staff will guide you through a total body workout that focuses on strengthening and lengthening every muscle group.




A more athletic approach to Barre training, extra props and equipment are used to enhance overall sculpting for upper body, thigh, seat and core. A different format is used in each Sports Barre class. What to expect/wear: UGI, Gliding discs, tubing, bands and weights are used for an ultimate total body workout. Barre emphasizes barefoot training(no shoes), but toe sox are highly recommended for support and grip in Barre classes.

Ugi ball(used at times) is a padded medicine ball that combines strength, cardio and core training into the most fun, challenging, perfect way to becoming functionally fit.