Allison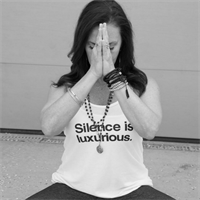 YOGA INSTRUCTOR
Yoga is about cultivating exquisite relationships; the ones you have with yourself, and with others. As Allison facilitates your yoga practice, she will invite you to explore the GIFTS of the practice, that you can use on and off the mat!
Allison is a RYT 500 hour registered yoga teacher with Yoga Alliance, one of 1,500 world-wide Chopra Center Certified Primordial Sound Meditation Teacher, a Level 2 Reiki Practitioner and a Certified Johnny G Spinning Instructor.
Allison instructs the following:
Vinyasa means "breath-synchronized movement," and Vinyasa yoga is a series of poses that will move you through the power of inhaling and exhaling. Vinyasa movements are smoothly flowing and almost dance-like. Good for those starting their journey into yoga, more experienced Yogis that want to fine tune their practice, or those looking for balance, alignment, functional strength and a deep stretch. This class will be customized toward the students in attendance. Come to your mat for strength and peace. Heated, 80-85 degrees

Enjoy a simple meditation practice available to all at the end of class. Reduce stress, increase calmness and clarity and promote happiness. Take a deep breath, and get ready to relax.