Stephanie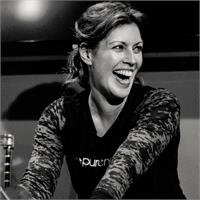 AFAA GROUP FITNESS, AFAA PERSONAL TRAINING, BARRE, CONCEPT II ROWING, JILLIAN MICHAELS BODYSHRED, MAD DOGG SPINNING®, MAD DOGG SPINPOWER® CERTIFIED

Stephanie has always enjoyed teaching: beginning as an aerobics instructor in college, to a middle school English teacher after college, to a rowing instructor after having children. While pursuing many different career paths, Stephanie was ultimately led back fitness instruction where she currently enjoys teaching a variety of classes to multiple fitness levels. She loves to motivate others to become healthy and strong and wants her classes to be accessible to all fitness levels. Stephanie believes it's important to keep the body guessing, so she strives to keep her classes fresh and new so participants stay challenged, achieve their absolute best, and are never bored. Stephanie's goal is to keep you moving throughout every class – with a little bit of fun, of course! In order to expand her personal education and goals, she continues to actively pursue additional fitness certifications as well. In her spare time, Stephanie enjoys volunteering at her children's schools, plus lots of outdoor activities and fishing with her family. Stephanie holds a Bachelors Degree in English and French from Ursinus College, and currently resides in Devon with her husband and two children.
Stephanie instructs the following:
Our signature class -- interval treadmill or rowing plus strength trg. blocks with Kettlebells, dumbbells, TRX along with other functional and agility equipment to increase metabolism, muscle strength and definition, enhance energy levels, and burn max calories during and after the workout(after burn).

This class is appropriate for all levels taught by our experienced, elite training coaches. Heart rate straps are recommended to monitor intensity throughout this all level class.