Julie W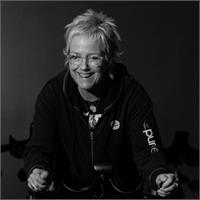 SPINNING, SPIN Power, TRX, Small Group Personal Training, CXWORX, Group Exercise
Julie has been teaching SPIN since 2008. As an avid road cyclist, she subscribes to the principle of "keeping it real" in her classes. Using her vast and eclectic music library, she creates training rides that will keep riders of all levels engaged and progressing to reach and exceed their fitness goals. As a life-long, team sport athlete, Julie understands the motivation and energy that a group dynamic fosters. As a cyclist, she understands the training value of a solid SPIN program; cyclists are the greatest endurance athletes! Incorporating cycling training techniques, anyone can become fitter, faster & stronger! Using the bio feedback metrics the SPIN bikes provide, that progress can be measured, providing extra motivation!
Julie has two sons, 25 & 21; their favorite family activity is time spent on the slopes out west. She recently moved to Berwyn where she and her dog enjoy daily walks, along with hikes in Valley Forge Park
Julie W instructs the following:
You will be riding on the new Blade ION™ bikes! This class is designed to track real power—a rider's true effort.

PLEASE ARRIVE 10 minutes prior to class time for proper bike set up. Heart rate straps are recommended to monitor cardio intensity.

The SPINPower technology is unique because it tells riders how hard they are working, allows them to measure progress, and tells them what fitness variables they need to change.

SPINPower program features:
A Personal Spinning Threshold Test (PST) informs the creation of customized SPINPower training zones.
Post-ride data analysis allows a rider to monitor and evaluate progress, and compare those results over time.
The Spinner Blade ION provides an accurate measurement of how many calories a rider is burning.