David S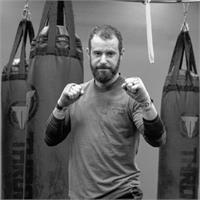 Senior HaganaH Instructor & Zone Boxing Instructor
David has trained under David M. since he first opened 4 years ago. In 2014, he became fully certified as a Generation 2 F.I.G.H.T. Instructor, and Battle Ready Kickboxing Instructor (this makes Zone Boxing a BLAST with him!)
David trains in HaganaH to keep his mind and body ready for worst case scenarios. His main motivation for teaching Haganah is to keep people as prepared as possible for the senseless acts of violence plaguing our society.
Credentials & Achievements:
~HaganaH F.I.G.H.T. Instructor
~Senior F.I.G.H.T. Instructor at PurEnergy Studios
~Associate F.I.G.H.T. Instructor at MSMA Regional HaganaH Center
~Battle Ready Kickboxing Instructor
Israeli Tactical Knife Fighting is my specialty.
David S is currently not instructing any classes.