David M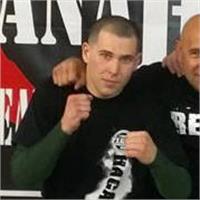 Chief HaganaH Black Belt Instructor & Zone Box Instructor
David is one of only 49 HaganaH Black Belts in existence to date. He is battle tested under HaganaH's founder, Master Instructor Mike Lee Kanarek. He brought HaganaH to the Main Line when he opened the first ever satellite location for MSMA's Regional HaganaH Center, based in West Chester, PA.
David's love for HaganaH can only truly be seen, by training with him. He takes time to make sure that each and every student grows 1% every class. David has experience instructing members of our Military and Law Enforcement community as well as professionals and students.
Credentials & Achievements:
~HaganaH Black Belt
~2012 International HaganaH Federation's Instructor Of The Year
~Chief F.I.G.H.T. Instructor at PurEnergy Studios
~Senior F.I.G.H.T. Instructor at MSMA Regional HaganaH Center
~HaganaH PT & Combat Fitness Coach
~Ground Survival/Combat Wrestling Instructor
~Tactical Knife Fighting Instructor
~Israeli Combat Shooting (Pistol & Rifle)
~IPTT Certified: Active Shooter Response, Medical Combat/Trauma Response, Security & 3rd Party Protection, Counter Terrorism Strategies
David M instructs the following:
Cardio Box Fitness is a high intensity functional fitness program. Our instructors goal is to bring you to your peak level of performance in a short period of time and keep you there for as long as possible. The focus is always on functional fitness, ultimate endurance, and of course....fighting skills!

You will hit the bags, work with battle buddy's, and always feel a sense of camaraderie. Whether you are in peak shape, or recovering from injury, our instructors are equipped to help you maximize your workout.

Clients will see increases in core strength, stability, flexibility, explosiveness, and cardiovascular endurance in very little time. We believe that every workout is similar to making a deposit in the bank. When the time comes in the real world to sprint, crawl, jump, lift, twist, turn, or fight, will you be ready to make a withdrawal?




* Extra Charge for "Unlimited Members"

The HaganaH program provides the world's only complete self-defense system with realistic, practical solutions for worst-case scenario attacks/threats.

At Purenergy, we train empty hand, knife, and gun scenarios in a 12 week rotation. Our open enrollment format makes it easy to jump into any class. Just about anyone can do it, regardless of strength, size, or physical fitness.

You'll get in great shape, have an absolute blast and get the same kind of confidence as the professionals. The confidence that comes from knowing you can handle whatever situation you might encounter.
(*Unlimited members pay $10/class discounted rate)




Once a basic HaganaH foundation has been laid, students are invited to participate in our advanced curriculum. This is where warriors hone their skills in knife fighting, close quarter combat, self defense for more than just themselves (child, spouse), how to win against multiple attackers, and even vehicle tactics.