Kristin H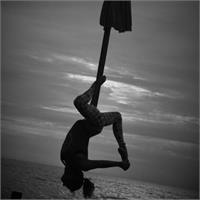 "Kristin knew that aerial yoga would be the practice for her before ever getting into the hammock. She discovered it on a morning television show, but it wasn't until it was finally offered in our area that she is now able to make it a part of her daily life. She practices and trained at Transcend Wellness and Yoga and hopes that she can bring the love and passion of aerial yoga to everyone ready to give it a try! "
Kristin H instructs the following:
We believe you can fly!

Aerial Yoga uses a soft fabric hammock to allow the student to get deeper into traditional yoga poses or assist with poses, such as inversions, that otherwise may take years to accomplish. The body is fully or partially supported to assist or gain strength in stabilizing muscles that normally would not be challenged as much. The core is deeply challenged allow the body to move in space. Deep tissue massage is one of the many benefits of the hanging poses in areas of the body that hold onto tension, such as hips & shoulders. Benefits of inversions in a pose like sacrum wrap, include traction & decompression of the spine & increased circulation to the brain.

Please arrive 10 minutes early to get measured properly. We prefer that you do not enter the room after the class begins.




Advanced Aerial poses and transitions are introduced, must have taken at least 15 Aerial classes before attending, no beginners, please.




Join Kristin for an hour of hanging out with friends (literally!)

This 4 Week Series offers more advanced tricks, partner poses, and strength building exercises. We will gradually build on poses from week to week with the more advanced aerial yogi in mind but classes will still also be fun and light hearted.

PreRequisite - You must have attended a minimum of 15 aerial yoga classes to attend.