Bob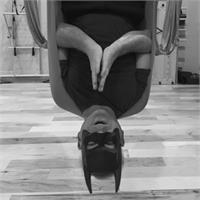 AERIAL YOGA LEVEL I & LEVEL II CERTIFIED
Bob first came to his yoga mat in 2007, to regain some of the flexibility that he had lost over the years. He learned that yoga is much more, with movement and breath providing many other benefits, including the ability to de-stress and find a deeper peace of mind. Bob took his first aerial yoga class in August 2012, and was immediately hooked. "Aerial yoga makes me feel like a kid again. It's a great workout, and it is so much fun that time flies by so fast and you barely know you are working out." Bob completed Level One and Level Two Aerial Yoga Teacher Training at Transcend Wellness and Yoga in 2013. He tries to make each class challenging and fun for his students, allowing them to grow their practice and build self-confidence, all while having a great time.
In the corporate world, Bob has worked for the same IT company for 39 years. He also enjoys cooking, is an avid runner, and a workout junkie. Bob has been married for 35 years, with 2 children and 3 granddaughters.
Bob instructs the following:
Feel Good - Have Fun - Play More!
Join us for some just clean fun! This class may include inversions to decompress the spine and stimulate the flow of blood and fluids, strength and balancing poses to tone the muscles, and restorative poses to soothe the nervous system and quiet the mind.
This class is a great outlet for play, self-expression and exercise. We think everyone should be able to run away and join the circus, if only for a little while!

Be prepared to laugh, have fun, be fearless,and let go! No yoga experience or aerial experience is needed.
Minimum age is 9yrs, Max age is 12yrs




Aerial Yoga, Pizza Party & a Movie with Flying Bob & Purenergy Staff (Parents Night Off)

Feel Good - Have Fun - Play More!

Join us for some just clean fun!

This a fun night for the kids! A great outlet for play, self-expression & exercise. Everyone settles in for pizza and a movie!

Ages: 6-11Yrs.

Kids are welcome to bring a pillow, blanket and wear pj's.

We are First aid and CPR certified. Includes 1 hour of Aerial with Bob Adams, PIZZA, and a MOVIE




We believe you can fly!

Aerial Yoga uses a soft fabric hammock to allow the student to get deeper into traditional yoga poses or assist with poses, such as inversions, that otherwise may take years to accomplish. The body is fully or partially supported to assist or gain strength in stabilizing muscles that normally would not be challenged as much. The core is deeply challenged allow the body to move in space. Deep tissue massage is one of the many benefits of the hanging poses in areas of the body that hold onto tension, such as hips & shoulders. Benefits of inversions in a pose like sacrum wrap, include traction & decompression of the spine & increased circulation to the brain.

Please arrive 10 minutes early to get measured properly. We prefer that you do not enter the room after the class begins.




Aerial Yoga / Fun-Damentals

Aerial Yoga is one of the newest blends of yoga and aerial arts. It is a beautiful and freeing alternative to a yoga mat practice, although it is not necessary to have any yoga experience in order to participate in an aerial yoga class. Aerial yoga uses fabric in the form of a hammock as a "prop". It will allow you to create a place of presence in the body, mind and spirit while enjoying the benefits of increased flexibility, strength and decompression of the spine and joints. You will experience traditional postures that are often difficult in a mat practice, but can be achieved during your aerial yoga practice.

How to Prepare for an Aerial Yoga Class:

Please arrive 10-15 minutes early in order to register and adjust your hammock height.
For you own comfort, it is recommended that you wear a short or long-sleeved shirt for you first class.
Do not wear any jewelry (rings, bracelets, necklaces). These can cause rips or tears in the fabric.
Avoid using hand lotion, perfume or sunscreen prior to class.
Clothing should not have zippers, which can also harm the fabric. Most participants avoid loose fitting clothing. Choosing clothes with more cotton than lycra is also advisable.
Trim you nails to avoid them from snagging the fabric.
A yoga mat is optional but not required for this class.
Most participants avoid a regular meal 1-2 hours before practice, but may opt for a light snack (fruit, protein bar, etc.) if necessary.




Feel Good - Have Fun - Play More!
Join us for some just good clean fun. Our goal is to contribute to the community by offering both adults and children an outlet for play, self-expression and exercise. We think everyone should be able to run away and join the circus, if only for a little while!

12yrs-16yrs
Giggling is encouraged!