Gretchen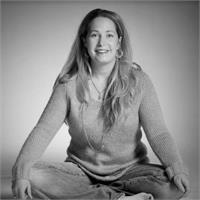 YOGA INSTRUCTOR
The only way to make sense out of change is to plunge into it, move with it, and join the dance. –Alan Watts

Gretchen Myhre E-RYT, LMT, LET
Gretchen was introduced to yoga in 2001 to help relieve stress and physical pain.

She began teaching in 2003. As a licensed massage therapist she shares her knowledge and passion thru alignment and touch. She is a graduate of Yellow Springs Yoga 200hr, Om Yoga NYC 200hr, and Verge/ Empowered Yoga 200hr
teacher training programs. She has helped to facilitate several Yoga Teacher Training programs over the years specializing in anatomy and manual adjustments.

Yoga has presented its gifts of patience, stillness, awareness, and compassion. Being on my yoga mat allows me to dig deeper thru observation of my thought patterns,
reactions, and attitude. It has given me a deeper and more graceful way to handle the never ending cycle of changes and challenges that this life tosses our way.
Gretchen instructs the following:
Vinyasa means "breath-synchronized movement," and Vinyasa yoga is a series of poses that will move you through the power of inhaling and exhaling. Vinyasa movements are smoothly flowing and almost dance-like. Good for those starting their journey into yoga, more experienced Yogis that want to fine tune their practice, or those looking for balance, alignment, functional strength and a deep stretch. This class will be customized toward the students in attendance. Come to your mat for strength and peace. Heated, 80-85 degrees