Steve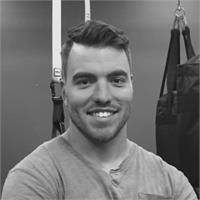 KETTLEBELL/TRX & FUNCTIONAL MOVEMENT
Certified personal trainer since December 2011, Steve teaches various styles and formats, from park boot camps with no equipment to one on one training with college athletes. His training style uses a variety of free weight, body weight, kettle bell exercises as the base of any good strength program would. Steve is also certified in osteoblast training( which is a specific type of strength training to help aid in correcting bone density issues I.e osteoporosis), speed blast training (linear and sport specific speed training), kettle bells, TRX suspension training, and am and functional movement screening.
Steve always likes to remind his students that this should be a lifestyle, not a quick fix -- importance of diet, nutrition, stretching, foam rolling, and plenty of rest is what Steve emphasizes for optimal fitness and health.
Steve instructs the following:
Sculpt all major groups with a variety of techniques using resistance training using weights & HIIT training interspersed throughout the class.




Build strength, add definition, increase bone density and decrease body fat by INCREASING lean muscle. ... Use a variety of weight training equipment to change the shape of your body - no muscle gets neglected!




Our signature class -- interval treadmill or rowing plus strength trg. blocks with Kettlebells, dumbbells, TRX along with other functional and agility equipment to increase metabolism, muscle strength and definition, enhance energy levels, and burn max calories during and after the workout(after burn).

This class is appropriate for all levels taught by our experienced, elite training coaches. Heart rate straps are recommended to monitor intensity throughout this all level class.




Bootcamp is a combination of strength, cardio, muscle endurance, flexibility, core, and functional movement patterns. You get EVERYTHING you need!
We keep you moving and burning fat from the first minute to the very end!
– The After Burn! We use a scientifically proven exercise formula known as E.P.O.C. to increase your metabolism up to 12-16 hours after your workout! That's right, burn fat for HOURS after your workout!
– NEVER Plateau! The body hates change! It would much rather do the same thing every minute of every day. Well we have news for you…when you do the same exercise routine day in and day out you stop seeing results or "plateau." At Bootcamp we utilize the principle of muscle confusion. You will NEVER do the same workout twice! Why is this good? Because…your body will never adapt and you will never plateau! You will get results and they will come quick and continue to come…..month after month after month!




45 minutes of cardio and strength interval training using bodyweight, dumbbells, medicine balls and more. TBC is an ever-changing mix of functional movements like squats, lunges, planks and push ups designed to rev up your metabolism and build long, lean muscle. With an emphasis on movement in different planes, TMC also improves your agility and balance. Stay in the Game with Tabata!