Jennifer B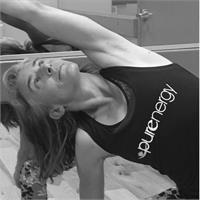 Jennifer Borrowman is a Philadelphia area based Yoga Teacher with over twenty years of experience as a Physical Therapist. She completed her Yoga Teacher training in 2011 with the British School of Yoga, received her MA in Russian Studies from Saint Andrews University in Scotland, and her BSc in Physiotherapy from Manchester University in England.
As a Yoga Teacher, Jen's priority is for students to feel both inspired and safe as they practice yoga. Her gentle physical and verbal adjustments allow students to challenge themselves while preventing injury. The non-judgemental environment in her classes helps students to practice kindness towards their bodies. Jen teaches self-awareness, so students are empowered to discover where they need to build more strength or more flexibility. She encourages students to find patience, compassion, calm steadiness and trust in themselves, while creating space in the body and mind, and following the breath as a guide.
Jennifer B instructs the following:
This class will focus on the foundations of Yoga -- physical, mental and spiritual & is geared towards new students to prepare them to enter an All Level Yoga class safely, confidently & with proper form and alignment. Mild heat, 75-80 degrees




Yoga can improve the lives of people of ALL ages in a variety of ways, including reducing stress, anxiety and depression, improving performance at work and in sport, reducing risk of heart condition, obesity, diabetes and cancer and speeding up recovery from training.

Yoga makes us feel good all-around, improving our sense of well-being and making us feel lighter, more connected to ourselves and appreciative of the important relationships in our lives.

Join Jennifer Borrowman and get back to your practice or begin a new yoga practice. Safe and steady progress to avoid and prevent injuries.