Samantha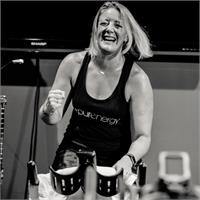 Samantha 'Sam' has been active her entire life. Growing up "down the shore" her days were full of endless bike rides, long swims, and quite a few paddle outs on the trusty long board. After receiving a bachelors degree in civil engineering from Villanova University ('07), where she trained occasionally with the Wildcat swim team, she attended her first spin class (on a whim) and was immediately hooked! Coincidentally she met her husband the same year and it seems that both passions stuck! After the birth of her first child in 2012 she felt a little overwhelmed with motherhood and turned her focus to fitness, which helped clear her mind, regain her strength and become the best mom to her two young children! Ultimately her "new" favorite place became the gym, where friendships were built and becoming a certified indoor cycling instructor was naturally the next step.
She has been a certified indoor cycling instructor with Keiser and ASFA since 2015.
Sam will always bring excitement, a smile, and good tunes! Expect to work hard but have fun (dancing is always encouraged)! Favorite motivational cue "YOU are strong and YOU can do anything for 20 seconds!"
Samantha is currently not instructing any classes.