Frank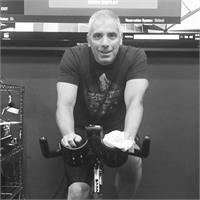 Frank began his fitness career as a competitive rower and represented the United States at the Junior World Olympics. Frank was recruited and competed at the college Division One level at Northeastern University and supplemented his fitness training with outdoor cycling and running. Frank has completed several marathons and triathlons and now focuses his interests on running and participating in a variety of cycling events both road and cyclocross. Frank has been a certified Spinning instructor for over 18 years. His energizing music, proper form and technique motivates participants to get the most out of their workouts! As a graduate in Criminal Law, Frank has a career in the field of Corporate Security working for a large defense contractor.
Frank instructs the following:
You will be riding on the new Blade ION™ bikes! This class is designed to track real power—a rider's true effort.

PLEASE ARRIVE 10 minutes prior to class time for proper bike set up. Heart rate straps are recommended to monitor cardio intensity.

The SPINPower technology is unique because it tells riders how hard they are working, allows them to measure progress, and tells them what fitness variables they need to change.

SPINPower program features:
A Personal Spinning Threshold Test (PST) informs the creation of customized SPINPower training zones.
Post-ride data analysis allows a rider to monitor and evaluate progress, and compare those results over time.
The Spinner Blade ION provides an accurate measurement of how many calories a rider is burning.