Clyde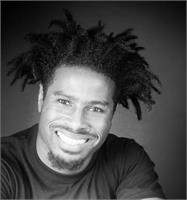 HIP HOP INSTRUCTOR

Clyde Evans, Jr., has been dancing it ever since age 11. His passion for the dance has allowed him to travel to places such as Africa, Italy, London, Brazil, France, Finland, and Australia and perform in various productions with a litany of stars like Will and Jada Pinkett-Smith, Jay Leno, Haley Berry, Mark Whalberg, Robert Redford, Michelle Pfeiffer, Bruce Willis, and M. Night Shyamalan, not to mention appearing in commercials for the NFL's Superbowl, dance contest on BET, performances for the X-Games and magazine and newspaper articles. Evans has truly enjoyed the opportunities performing Hip-Hop has afforded him especially for Michael Jackson but teaching has been equally rewarding. He has trained dancers who have appeared on both America's Best Dance Crew and So You Think You Can Dance competitions. Evans now instructs at Wesleyan University in Connecticut, Ursinus College, Montgomery Community College and Drexel University in Philadelphia. What's most important to him, is sharing what he has learned with those who have a desire to learn it! You can find out a bit more about him and his company at Chosendance.com.
Clyde instructs the following:
Inspired by street dance styles, this class is by far our most popular. Isolations, stretching, rhythms, upper body strength and funky footwork are all emphasized. Instructors may incorporate elements from popping, breaking, locking and house dance. Each class ends with learning choreography to popular music.