Michelle K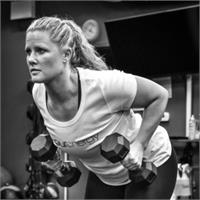 NASM Certified Personal Trainer, Cycle Fusion Level 1 Instructor, USAW Level 1 Sports Performance, Coach Crossfit L1, Crossfit Kids.

Michelle grew up with athletics as a major part of her life. She spent most of her childhood as a gymnast and dancer. As she progressed through middle school and high school, basketball and softball started to take more of a focus. She experienced "training" for the first time at Drexel University where she played softball and had her first real access to a Strength and Conditioning coach.
She earned her B.S. in Health Science and her M.S. in Sports Management.
Michelle K instructs the following:
Sculpt all major groups with a variety of techniques using resistance training using weights & HIIT training interspersed throughout the class.




Our signature class -- interval treadmill, rowing and strength trg. blocks with Kettlebells, dumbbells, TRX along with other functional and agility equipment to increase metabolism, muscle strength and definition, enhance energy levels, and burn max calories during and after the workout(after burn).

This class is appropriate for all levels taught by our experienced, elite training coaches. Heart rate straps are recommended to monitor intensity throughout this all level class.




Complete total Body Sculpting and Strengthing using weights of different sizes. Major muscle groups are targeted for full range of motion movement in a variety of sets with dumbbells, Step 360, BOSU & TRX, Body Bars and small elevated platforms. This class builds muscle so the body can lean out. 45 minutes, all levels welcome, athletic shoes recommended.




Bootcamp is a combination of strength, cardio, muscle endurance, flexibility, core, and functional movement patterns. You get EVERYTHING you need!
We keep you moving and burning fat from the first minute to the very end!
– The After Burn! We use a scientifically proven exercise formula known as E.P.O.C. to increase your metabolism up to 12-16 hours after your workout! That's right, burn fat for HOURS after your workout!
– NEVER Plateau! The body hates change! It would much rather do the same thing every minute of every day. Well we have news for you…when you do the same exercise routine day in and day out you stop seeing results or "plateau." At Bootcamp we utilize the principle of muscle confusion. You will NEVER do the same workout twice! Why is this good? Because…your body will never adapt and you will never plateau! You will get results and they will come quick and continue to come…..month after month after month!