Bridget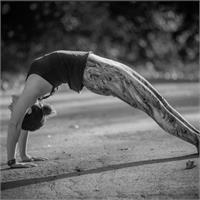 Yoga Instructor
Bridget's journey began at just 9 years old when she bought her first book about yoga and started to play at home! It wasn't until she was 16 that she took her first classes at the local gym and fell in love with everything about the practice. Her passion continued to grow throughout college as she started diving deep and practicing in studios around the area. Bridget knew that she wanted to teach, and when she met Kate Goodyear and Allison Sobel from her friend and teacher Alexis, Bridget knew she found the teachers to help her make that dream a reality! She completed their 200-Hour Svadhyaya Teacher Training program in January 2017.
Her favorite definition of yoga is "to yoke". In bringing together the body and the breath in a moving meditation, we can bring peace to the mind. In sharing her classes, Bridget wants to bring her students all the peace, the joy and the smiles that her own practice still brings her every single day! When she is not teaching yoga, she's working as a nurse at Lankenau Medical Center and striving towards her MSN with a concentration in holistic health! She hopes to continue her training and become certified in many different types of yoga and complementary therapies so she can bring health, healing and wellness to people all across the spectrum.
Bridget is currently not instructing any classes.