Jason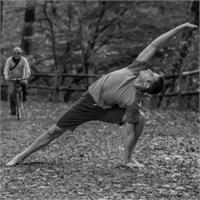 Yoga & Meditation Instructor
Jason's meditation journey began in early 2016 when he needed to find a way to cope with the moment-to-moment stresses of life, and to slow down. Since attending his first class, Jason's passion for meditation grew and inspired him to want to teach. Shortly thereafter, Jason completed the 25-hour Awaken to Stillness Meditation Teacher Training, which afforded him the opportunity to deepen his own practice and to gain the knowledge and tools to be able to share the gift of meditation with others. In Jason's meditation class, students can expect a relaxed and welcoming atmosphere. Jason explores the various meditation techniques while centering each class on different themes and intentions. Jason provides tips and tricks for building a consistent at-home meditation practice. Students can expect to spend time each class focusing on breathing, and learning techniques for calming the mind and body.
Jason is also certified to teach the practice of Vinyasa yoga. As an avid Yogi since 2011 and seeing the impact yoga has had in his life, he was inspired to share the gift of yoga with others. Jason recently completed the Svadhyaya 200 Hour Yoga Teacher Training. Students can expect to explore moving meditations that build strength, help to focus the mind and body, and to learn to find balance on and off the mat. Jason is deeply grateful for the loving wisdom his teachers have shared with him.
Jason is currently not instructing any classes.