Jackie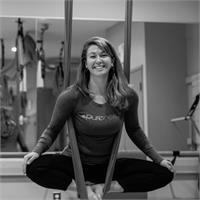 Yoga & Aerial Yoga Instructor
Her proclaimed mission in life is to help others and to make them feel good in all possible aspects. She began her yoga journey at the age of 11 when she was put in yoga as a means to handle childhood anxiety. It was after learning how healing yoga can be that she realized that it was mainly through yoga that she could create her purpose in life and bring health and love to her communities.
Always eager to bring more to her classes she regularly looks to further her education and have fun doing so. Her journey has brought her here where she is very excited to be part of the team and community!
Jackie instructs the following:
Aerial Yoga and Nidra

Aerial Yoga Nidra - Aerial Yoga offers authentic yoga, with the support of a soft, aerial fabric hammock — to explore, refine, and advance traditional asana, both in the air and on the ground.

Aerial Nidra is a state of consciousness between waking and sleeping. It is a state in which the body is completely relaxed, and students become systematically and increasingly aware of the inner world by following guided meditiation. Supported in the aerial hammocks enables the student to feel safe, relaxed and peaceful.