Sarah T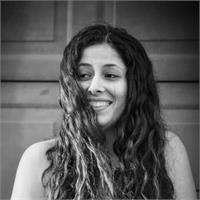 Sarah's love for yoga started in college. She came to her mat looking for a way to cope with stress and relieve body aches. She fell in love with the practice as she realized it was transforming her mentally, spiritually, and physically. After graduating from Drexel with a BS in Health Sciences, Sarah deepened her practice by beginning yoga teacher training. Sarah received her 200-Hour Yoga Teacher Training Certification through Svadhyaya Teacher Training. She is also a certified meditation teacher. She loves yoga for the community it builds, and for the practice's never ending learning process. Sarah truly believes everybody and every body can befit from yoga. She is a vinyasa teacher with Ashtanga and Anusara roots. In class she emphasizes breath control and alignment. Her classes are physically challenging, relaxing, and FUN! Sarah looks forward to seeing you on your mat!
Sarah T instructs the following:
"The quieter you become the more you can hear." -Ram Dass

Yin yoga is a deliciously deep, meditative and reflective practice in which floor-based postures are held for an extended period of time.

Unlike a dynamic yang practice that works the muscles through repetition, Yin works the deeper layers of the body such as the fascia, connective tissues, joints and bones. Yin is a deeply healing and nourishing practice with profound physical, emotional and energetic effects. During challenging times in our lives, our emotions can deplete our bodies of energy. The nourishing practice of Yin yoga helps to restore that energy for overall wellbeing.

Enjoy nurturing hands-on assists that move you towards a peaceful replenishment of body and spirit. Yin yoga is a wonderful compliment to any level of practice.




The perfect way to finish out the weekend and get ready for the week ahead feeling aligned and centered. This class is an All Levels Vinyasa Flow Yoga class taught at a slower pace, breath is matched to movement, inviting candlelight, mild heat, 80 degrees.




Vinyasa means "breath-synchronized movement," and Vinyasa yoga is a series of poses that will move you through the power of inhaling and exhaling. Vinyasa movements are smoothly flowing and almost dance-like. Good for those starting their journey into yoga, more experienced Yogis that want to fine tune their practice, or those looking for balance, alignment, functional strength and a deep stretch. This class will be customized toward the students in attendance. Come to your mat for strength and peace. Heated, 80-85 degrees




Hatha yoga use the breath to create a link between the body and the mind. Hatha builds flexibility and strength while minimizing the chance of injury. There are no chaturangas or vinyasas in the class. This well-rounded style balances and opens the body. You will learn to still the mind and be present in the moment.

All Level Yogis.

Mild heat




Vinyasa Flow Yoga moves dynamically from asana to asana (pose to pose) with constant attention to breath. Focus is on balance, power, fluidity, flexibility and alignment. Vinyasa frees the body of impurities like stiffness and muscle tension, leaving practitioners feeling clear, clean and energized. Our Power Flow practice is challenging and appropriate for those with prior experience. Heated room.

.




This non heated class uses slow, easy movement, with an emphasis on connecting the body, mind and spirit. The focus of this class is gentle stretching and stress relief. This class is appropriate for students of all levels and ages, including beginners, seniors, and those with injuries.




Find your zen while fine toning every inch of your body.

This routine will make you feel two inches taller and three times stronger. This hybrid program is the exercise version of the perfect pairing: yoga and barre.

You will flow through a vinyasa sequence designed to decompress & lengthen while toning your entire body through barre-inspired exercises for the upper and lower body. You're getting the best of both worlds in one workout—toned and sculpted arms, thighs, buttocks and core & much more ~ along with that yoga high.

no mat needed!