Veronica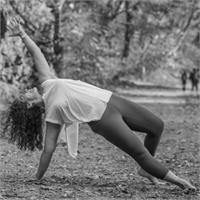 Veronica's practice has evolved through out the years. Thirteen years ago, her curiosity for yoga allowed her the opportunity to explore with movement and breath. Her passion and love for the practice encouraged her to get trained to be a teacher and share this love with everyone.
Today her practice is more spiritual and has helped her find a better balance in her life.
As a mother of three, wearing many different hats in one given day, yoga and mediation allow her to stay grounded and present.
She loves to try all different types of yoga styles, exercise, spend time with her family and make her delicious V-Empanadas.
Veronica instructs the following:
Vinyasa Flow Yoga moves dynamically from asana to asana (pose to pose) with constant attention to breath. Focus is on balance, power, fluidity, flexibility and alignment. Vinyasa frees the body of impurities like stiffness and muscle tension, leaving practitioners feeling clear, clean and energized. Our Vinyasa practice is challenging and appropriate for those with prior experience.

.




Vinyasa means "breath-synchronized movement," and Vinyasa yoga is a series of poses that will move you through the power of inhaling and exhaling. Vinyasa movements are smoothly flowing and almost dance-like. Good for those starting their journey into yoga, more experienced Yogis that want to fine tune their practice, or those looking for balance, alignment, functional strength and a deep stretch. This class will be customized toward the students in attendance. Come to your mat for strength and peace. Mild heat, 85 degrees




This non heated class uses slow, easy movement, with an emphasis on connecting the body, mind and spirit. The focus of this class is gentle stretching and stress relief. This class is appropriate for students of all levels and ages, including beginners, seniors, and those with injuries.