Sarah R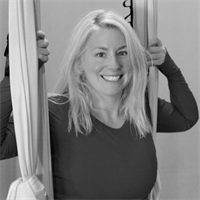 YOGA INSTRUCTOR
Since beginning her first yoga teacher training in 2004, Sarah has been bringing yoga to everyone from the Beginner Student to the Advanced Practitioner. One of her gifts is for making the heavy, esoteric yoga philosophy understandable by creatively weaving the teachings of the Sutras and the Bhagavad Gita into her classes. Sarah teaches Meditation as wells as Vinyasa, Restorative, and Prenatal Yoga styles, but she also has fun teaching an invigorating and challenging Spin and Barre Fitness class too.
When Sarah isn't teaching yoga, she loves walking her dog Charlie in the afternoon, doing Mommy-and-Me Yoga with her daughter and laughing with her husband and little girl in the evening. If you don't find her with her head down in a down dog, you'll find her nose up in a good book. Her hope for all her yoga students and beings everywhere is that they will experience their light in this lifetime and shine brightly.
Sarah R is currently not instructing any classes.