Kate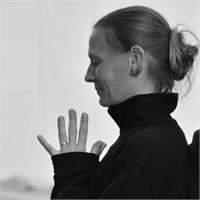 YOGA INSTRUCTOR
…and one day I awoke, mid twenties, just on the other side of a harsh breakup, stressful job and feeling low. I asked if I could tag along with a friend to her yoga class and my whole life changed. I found something to look forward to, feel good about, a sense of community, peace of mind and so much more! I jumped in with both feet and was soon taking teacher training with some of the greatest teachers around, the staff at Dhyana Yoga!
My mission is to help others feel the way that my teachers helped me feel. I strive to provide my students with a practice that challenges the body, soothes the mind and revitalizes the spirit, building connection. It is very important to me that students realize that this is more than just exercise but a spiritual practice.
Kate instructs the following:
Vinyasa means "breath-synchronized movement," and Vinyasa yoga is a series of poses that will move you through the power of inhaling and exhaling. Vinyasa movements are smoothly flowing and almost dance-like. Good for those starting their journey into yoga, more experienced Yogis that want to fine tune their practice, or those looking for balance, alignment, functional strength and a deep stretch. This class will be customized toward the students in attendance. Come to your mat for strength and peace. Mild heat, 85 degrees




The perfect way to finish out the weekend and get ready for the week ahead feeling aligned and centered. This class is an All Levels Vinyasa Flow Yoga class taught at a slower pace, breath is matched to movement, inviting candlelight, mild heat, 80 degrees.