Lisa W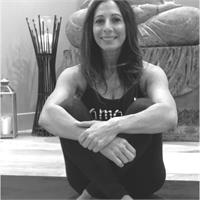 Certified RYT 200 hr. – Yoga Alliance Certified Aerosling Instructor
"Yoga connects us and separates us at the same time. It grants us the ability to discover where we find our supreme energy as individual and to express that energy in a way that feels best for us."
I started yoga to find balance and strength in my life both mentally and physically. After teaching aerobics for a few years in college and outside of college I discovered yoga and fell in love with the practice. I have enjoyed practicing yoga in a variety of styles for 15 years . Lisa is a graduate of the Verge Power Yoga/Empowered Yoga teacher training program and has been teaching yoga for over 5 years. She has experience teaching beginner and advanced classes as well as corporate classes for GE and classes for athletes at the high school level. She has a passion for sharing her enthusiasm for the practice and the benefits it brings to all levels of fitness.
She enjoys spending time outdoors staying active, hiking, biking, playing tennis with her two sons Mason and Rhys.
Lisa W instructs the following:
Vinyasa means "breath-synchronized movement," and Vinyasa yoga is a series of poses that will move you through the power of inhaling and exhaling. Vinyasa movements are smoothly flowing and almost dance-like. Good for those starting their journey into yoga, more experienced Yogis that want to fine tune their practice, or those looking for balance, alignment, functional strength and a deep stretch. This class will be customized toward the students in attendance. Come to your mat for strength and peace. Heated, 80-85 degrees





Find relaxation and balance with this class that will open you up, invigorate you, and restore you. This class offers a series of deep yin postures to relax, unwind, and open up the energy pathways. Perfect for all levels.




Find your zen while fine toning every inch of your body.

This routine will make you feel two inches taller and three times stronger. This hybrid program is the exercise version of the perfect pairing: yoga and barre.

You will flow through a vinyasa sequence designed to decompress & lengthen while toning your entire body through barre-inspired exercises for the upper and lower body. You're getting the best of both worlds in one workout—toned and sculpted arms, thighs, buttocks and core & much more ~ along with that yoga high.

no mat needed!