Kristy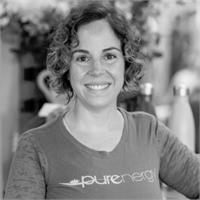 Kristy Mitchell, E-RYT 200
Kristy first discovered yoga in 2006. She'd always been active in outdoor sports, so going indoors to exercise was never on the radar. After struggling with back pain for awhile, she finally decided to try yoga. She entered the studio skeptically, but left completely addicted to the practice. It wasn't long before she was practicing three to four times per week.
Soon, she began to feel fantastic physically, lost weight, and found a sense of calm that she had been lacking. That's when she decided she wanted to share this wonderful practice with others. Kristy believes that yoga should be challenging, yet safe and accessible for all bodies, and it's reflected in her teaching style.
In addition to holding a 200-hour certification, Kristy is trained to teach Stand-Up Paddleboard Yoga, and Yoga for Trauma and Addiction. Kristy teaches wall yoga, vinyasa, power vinyasa, and stand-up paddle board yoga. Her classes are open and accessible to all levels, with modifications offered throughout.
Kristy instructs the following:
Take your practice to a whole new level! In this class, we link movement to breath and utilize the wall as a prop to help you deepen poses, learn proper alignment, and build core strength. Throughout the class, we integrate classical postures, using the wall to activate muscles and more deeply explore the form of each pose.

This class is appropriate for ALL yoga students, from beginner to advanced and those recovering from injuries. Modifications and variations are offered throughout to ensure all students are able to safely enjoy this practice. The benefits of your yoga practice are measured not in what you can do in class, but how comfortable you feel in your body in everyday life.