Kristin H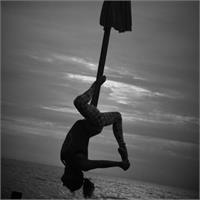 "Kristin knew that aerial yoga would be the practice for her before ever getting into the hammock. She discovered it on a morning television show, but it wasn't until it was finally offered in our area that she is now able to make it a part of her daily life. She practices and trained at Transcend Wellness and Yoga and hopes that she can bring the love and passion of aerial yoga to everyone ready to give it a try! "
Kristin H instructs the following:
We believe you can fly!

Aerial Yoga uses a soft fabric hammock to allow the student to get deeper into traditional yoga poses or assist with poses, such as inversions, that otherwise may take years to accomplish. The body is fully or partially supported to assist or gain strength in stabilizing muscles that normally would not be challenged as much. The core is deeply challenged allow the body to move in space. Deep tissue massage is one of the many benefits of the hanging poses in areas of the body that hold onto tension, such as hips & shoulders. Benefits of inversions in a pose like sacrum wrap, include traction & decompression of the spine & increased circulation to the brain.




Get ready! Come is costume! Defy gravity, fly through the air with other ghosts, goblins and vampires! There will be lots of aerial tricks and treats, music, noise, laughter and perhaps a few screams!






Glow with the Flow Aerial with Kristen Hernandez and Jackie Maloney!

Let your inner light shine brightly in this fun and upbeat class, which features creative flows, back bends, and inversions. Wear your brightest yoga gear and challenge yourself in this funky glow in the dark aerial yoga class. We'll even help you with glow stick bracelets and necklaces. This class is NOT for first time or novice aerial students. So make sure you have taken several aerial classes before trying this one, as you will need to understand the basic aerial poses, hangs, and transitions.

Investment Fee

Members $25

Non Members $30




Aerial Yoga / Fun-Damentals

Aerial Yoga is one of the newest blends of yoga and aerial arts. It is a beautiful and freeing alternative to a yoga mat practice, although it is not necessary to have any yoga experience in order to participate in an aerial yoga class. Aerial yoga uses fabric in the form of a hammock as a "prop". It will allow you to create a place of presence in the body, mind and spirit while enjoying the benefits of increased flexibility, strength and decompression of the spine and joints. You will experience traditional postures that are often difficult in a mat practice, but can be achieved during your aerial yoga practice.

How to Prepare for an Aerial Yoga Class:

Please arrive 10-15 minutes early in order to register and adjust your hammock height.
For you own comfort, it is recommended that you wear a short or long-sleeved shirt for you first class.
Do not wear any jewelry (rings, bracelets, necklaces). These can cause rips or tears in the fabric.
Avoid using hand lotion, perfume or sunscreen prior to class.
Clothing should not have zippers, which can also harm the fabric. Most participants avoid loose fitting clothing. Choosing clothes with more cotton than lycra is also advisable.
Trim you nails to avoid them from snagging the fabric.
A yoga mat is optional but not required for this class.
Most participants avoid a regular meal 1-2 hours before practice, but may opt for a light snack (fruit, protein bar, etc.) if necessary.




Aerial Yoga and Nidra

Aerial Yoga Nidra - Aerial Yoga offers authentic yoga, with the support of a soft, aerial fabric hammock — to explore, refine, and advance traditional asana, both in the air and on the ground.

Aerial Nidra is a state of consciousness between waking and sleeping. It is a state in which the body is completely relaxed, and students become systematically and increasingly aware of the inner world by following guided meditiation. Supported in the aerial hammocks enables the student to feel safe, relaxed and peaceful.