Laney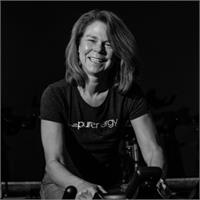 SPINNING CERTIFIED

Laney has been teaching Spinning for 7 years. Her good friend and Master Spinning Trainer - Brooke Hayward had inspired her take the seat of the instructor. Laney plans and develops each class differently so every time you get on your bike – The music and the format will be fun and challenging. Developing classes that focus on different music genres help Laney make each class fun, unique and exciting.
By day, Laney is a speech pathologist and teaches preschool at Good Samaritan Day School. Laney has 3 children, ages 20,22 and 24. She and her family live in Berwyn – in her spare time she is an avid tennis player and downhill skier! Talking walks and lifting weights keeps her balanced and buff!!
Laney instructs the following:
30 minute Spin cardio ride followed by strength training in the Zone room with UGI, bells & TRX focusing on upper body and core training.




A Spin class perfect for those who want to build their cardio endurance and also new to Spin classes. Muscle work for upper body or core is also included in this all level Spin class.